As the largest supporting joint in the body, your knees come into play almost every time you try to move around. If you injure your knee, or if it gradually wears out with age, then everyday tasks will no longer be easy or pain-free.
 Linda D. is a patient of Travis Clegg, M.D., board certified orthopedic surgeon, and this knee pain is something she was once very familiar with. She says, "The pain had progressed so greatly that just sleeping at night and turning over in bed had become an issue." However, since her total knee replacement, she says her life has changed for good.
What Are the Signs That You Need Knee Replacement?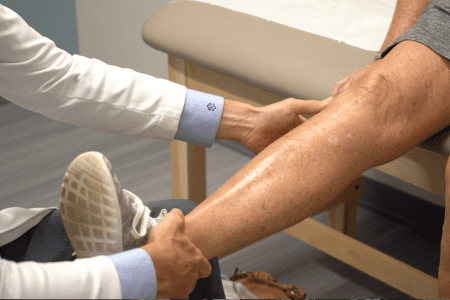 Linda is definitely not alone in her knee pain. Each year, more than 600,00 patients undergo total knee replacement in the United States, and they all have one thing in common: debilitating knee pain that gradually worsens. 
This sort of pain is the biggest sign that a knee replacement is in order. Linda says, "I had so much pain prior to having my knee replacement, it was affecting my everyday life." 
 There are five primary signs that it's time to consider a total knee replacement:
Non-surgical treatments like cortisone knee shots or physical therapy no longer work to alleviate pain

Your knee pain has increased so that even resting the knee fails to bring relief

Your mobility is highly affected, and you can't do normal activities

The knee is swollen and inflamed

You have to stop doing the things you love
Before total knee replacement surgery, Linda says, "I was thinking about every step that I took. I was concerned about stepping off of a curb or picking up my grandchild. Just getting out of my vehicle was an issue."
It wasn't as if Linda's knee pain came on suddenly, either. She says, "I had hurt myself in my twenties and had two prior surgeries and they had taken all my cartilage out. From the time I was 23 to when I turned 59, I had been bone-on-bone. My knee became very arthritic. I had bone spurs. It was becoming disfigured. It was excruciating." 
Linda notes, "Anyone who has knee pain will tell you, it's so gradual and you deal with it. You learn to live with the pain." Over time, the knee pain becomes so bad for many patients that their entire body goes off-kilter, as they try to protect the bad knee when doing everyday tasks. Linda continues, "You hold yourself differently. Two years before the surgery I started having low back pain and I started having hip pain which I had never had before." 
Total knee replacement is highly effective at restoring mobility and easing pain; 90% of surgery patients report nearly immediate relief from the pain they experienced before the procedure. Linda was certainly not the exception. She says, "The biggest benefit that I've had since my surgery is just to be able to function every day without pain."
What Happens During a Total Knee Replacement?
A knee replacement is a surgery in which the worn-out joint surface is removed and replaced by metal and plastic implants. There are two types of knee replacement, a total knee replacement in which the entire joint is resurfaced and a partial knee replacement in which only one side of the knee joint is resurfaced.
 In both types of surgical procedures, the surgeon will carefully cut away the damaged bone and cartilage along with some soft tissue. The remaining bone will be prepared for the insertion of a prosthetic knee, which is cemented into place. The surgeon will then check to ensure that you have a smooth gliding surface and stitch up the incision. 
 Not all patients can have a minimally invasive total knee replacement. However, in Linda's case, she had the procedure with Dr. Clegg and walked out of the hospital on the same day she went in. She says, "It's beyond any of my expectations. I would never have believed that in two months I'd be able to run. Four months later I was back to playing tennis. It is remarkable."
How Can a Knee Replacement Improve Your Life?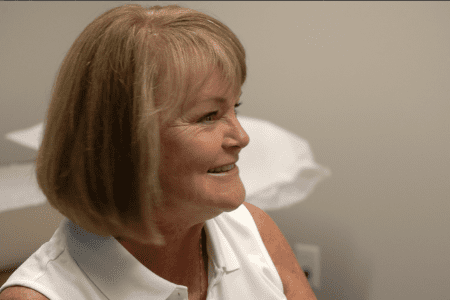 Linda's case is a typical example of how knee replacement can change your life. She describes herself now as "feeling really good." She continues, "I am able to do things now that I haven't been able to do for many years."
About two months after the surgery with Dr. Clegg, Linda and her husband went to Florida. They were walking on the beach and something happened that surprised both of them. She says, "I couldn't resist—I started running. I had not run in over 30 years. It was just so good to feel that freedom."
 Until Linda met Dr. Clegg, she had resigned herself to giving up the things in life she enjoyed the most, like tennis, golf, and riding her horses. She says before the surgery, "I was not able to do any of those anymore without pain." 
Today, Linda says, "I've started playing tennis again…and run without thinking about it." "My golf is really good and I've been beating my husband—and I like it." 
Let Total Knee Replacement Help You Live Your Life Without Limits
That's the true benefit of total knee replacement; you can get your full life back. Linda says, "Having this surgery—it's changed everything. It's made my life better and my family's life better and I'm very grateful."
Suffering from knee pain? You don't have to, not anymore. 
Schedule a consultation with Dr. Clegg and his team by contacting our office online or by calling (812) 945-5633 today.