Modern medicine has come a long way. Today, a worn out joint that restricts your mobility and causes severe pain can be removed and replaced with a prosthetic that allows you to resume your life to the fullest.
Each year, more than 450,000 hip replacements are performed in the U.S. Some of them are double replacements, where both hips are removed and replaced with brand-new joints.
Paula H. was one of these patients. After undergoing surgery, she expressed the benefits it's had on her life. "The biggest benefit since my procedure is sleeping and going to the grocery store," said Paula in a recent interview. It's these normal, everyday activities that define us, but for someone like Paula H. they were a struggle. That's because her arthritic hips were causing a great deal of pain and discomfort, even when lying down and trying to sleep. 
After undergoing a double hip replacement with Travis Clegg, M.D., board-certified orthopedic surgeon specializing in hip and knee replacement, Paula regained her mobility and her pain was eased. This is her story.
How Do You Know You Need A Hip Replacement?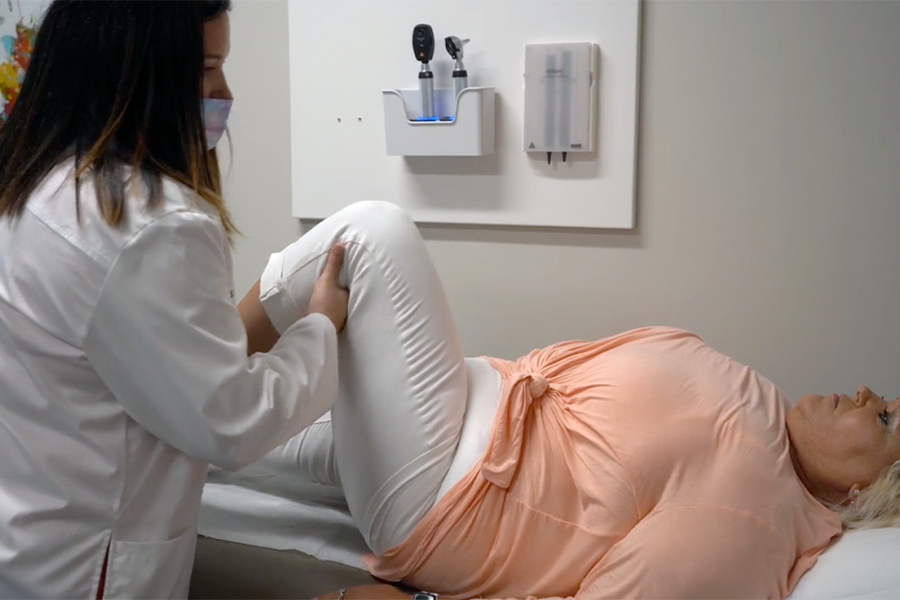 If you've been suffering from hip pain, it's a good sign that you may need a hip replacement. The following key indicators suggest you might benefit from hip replacement surgery:
You experience pain when you walk.

You have limited range of motion in your hips.

You find yourself limping frequently.

There is swelling and tenderness in one or both hips.

The hip joint feels unstable.
When a hip joint becomes chronically unstable and inflamed, even sleeping offers no relief. Conservative treatments, such as icing, physical therapy, medications or other non-surgical approaches, don't work as effectively, if at all. These are all signs it may be time to see an orthopedic surgeon like Dr. Clegg.
Paula recalled that she was in pain for two years, and she noted that her decision to see an orthopedist was complicated by the COVID pandemic. During that time, many elective surgeries were postponed.  
Over time, though, Paula's suffering grew much worse. "My family made me go to the doctor. I was really surprised when the X-rays and scans came back, that my hips were really bad," she said, referring to the increasing pain and the effects it was taking on her life. 
Paula's experience isn't abnormal; many hip replacement patients struggle with their mobility and quality of life, sometimes for years. The biggest shared experience among patients is the almost constant pain from hip joints that doesn't subside, even with pain relievers. 
Fortunately, hip replacement procedures can alleviate the pain and suffering while restoring mobility to the body. When thinking about how her quality of life has improved since the procedure, Paula says, "The quality of life since the surgery is already 80%."
What Types of Hip Replacement Surgeries Are There?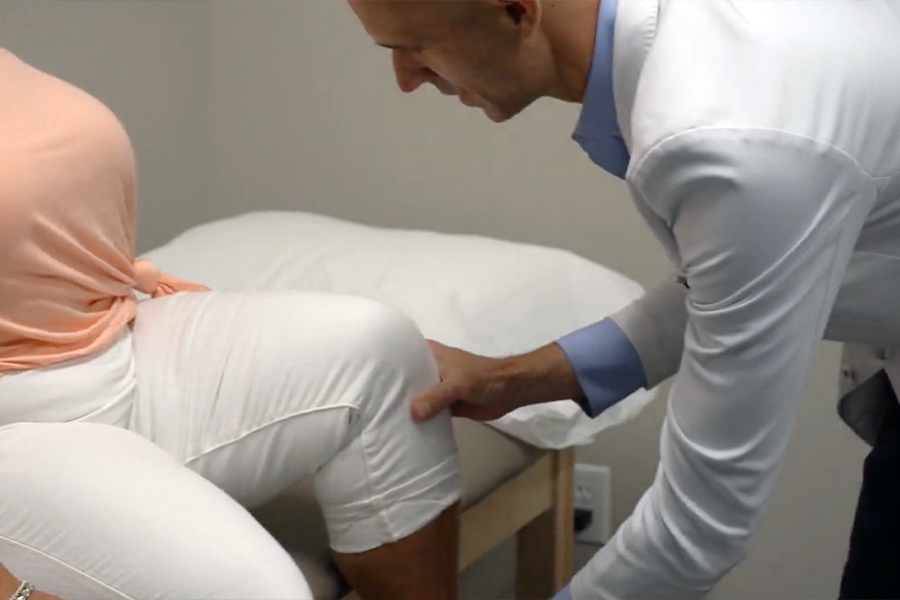 All hip replacement surgeries seek to remove and replace portions of the ball and socket hip joint to alleviate hip pain and stiffness. There are three primary types of hip replacement:
Total hip replacement. 

Partial hip replacement, which replaces only the head of the ball and socket joint.

Hip resurfacing, which smooths out the existing ball and socket joint.
Most commonly, patients like Paula undergo a total hip replacement, which is also called a total hip arthroplasty. During this surgery, the worn out ball and socket hip joint is removed and replaced with a prosthetic joint made of ceramics, metals and plastics. The ball of the joint is implanted into the top of the femur (thigh bone), and the cup of the ball and socket joint into the pelvic bone.
Within the category of hip replacement, there are three major surgical approaches used to perform total hip replacement: 
Posterior approach, in which the surgeon enters the body from the back of the hip. 

Lateral or anterolateral approach, in which the surgeon enters the body from the side of the hip.

Anterior approach, in which the surgeon enters the body from the front of the leg.
Each surgical approach has its benefits in certain cases. However, Dr. Clegg and his team prefer the anterior approach hip replacement surgery as it is the least invasive way to perform the procedure.
What Are the Benefits of Anterior Hip Replacement?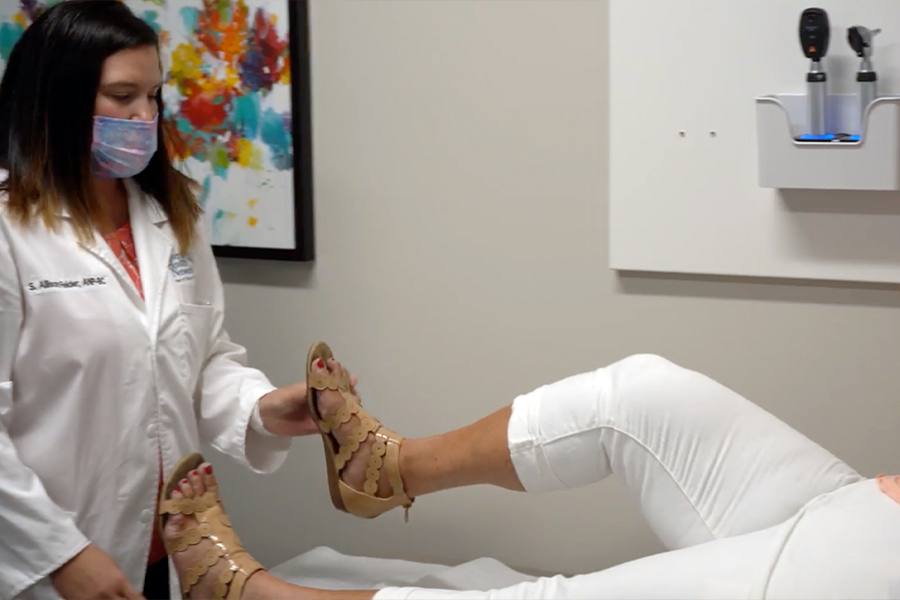 Approaching the hip joint from the front offers patients many benefits, including:
The major hip muscles are not cut but instead gently moved aside as the doctor works between them.

There is less healing time and less postoperative pain associated with this surgery.

There are fewer post-surgical precautions to keep patients from dislocating the hip after the procedure.

Patients stay in the hospital for a shorter time. In fact, all of Dr. Clegg's hip replacement patients go home the same day. 

There is less risk of orthopedic complications, such as a shorter leg after the procedure.

Patients are able to function more fully after the procedure.



After her anterior hip replacement procedure, Paula recalled, "It was less invasive than a root canal. You wake up, if you can walk, you're gone."

What Is Recovery Like After Anterior Hip Replacement?
Paula's anterior hip replacement procedure was very positive. "My surgical experience, being an outpatient, was really pretty simple. I've had lots of major invasive surgeries before. This was nothing." 
Key to recovery from a double hip replacement surgery is to closely follow your clinical care team's instructions. This includes:
Following your doctor's instructions for pain relief.

Walking short distances at least two or three times a day, extending your effort each time.

Using an assisted walking device for the first few weeks.

Icing and elevating the leg as instructed.

Working with a physical therapist to achieve range of motion.

Seeing your doctor for check ups.
Paula is one of Dr. Clegg's many pleased patients. Today she's regained her mobility and is living pain-free. She highly recommends Dr. Clegg's practice to anyone struggling with hip pain. "The people there were fantastic, and Dr. Clegg was such a caring person. I felt immediately that he was caring about my wellbeing, not just about doing surgery."