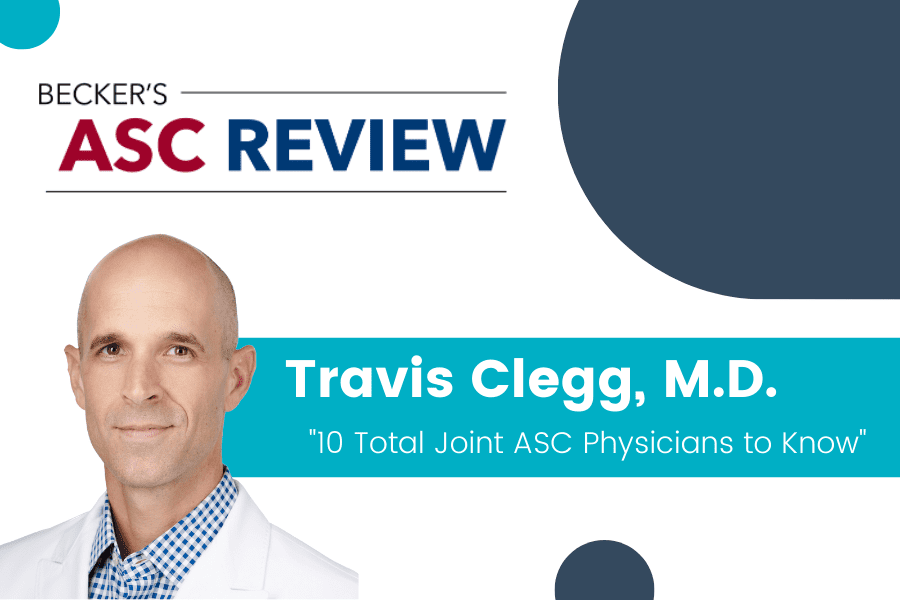 We are excited to share that Travis Clegg, M.D., has been recognized in an article by Becker's ASC Review for his outpatient procedures performed at our ambulatory surgery center (ASC), where patients can get back on their feet within hours after total joint replacement surgery.
The article, titled "10 Total Joint ASC Physicians to Know," highlights the professional accomplishments of Dr. Clegg, including how he has performed more than 2,000 minimally invasive hip and knee replacements, and how his expertise also covers rotator cuff repair, meniscus surgery and cartilage procedures.
At our practice, we are honored to have received this recognition by our peers for the work that we do to help our patients get back to doing what they love as quickly and safely as possible without pain, and we know we will continue to do so moving forward.
About Becker's ASC Review
Becker's ASC Review is the authoritative source of news and analysis for leaders and decision-makers in ambulatory surgery centers nationwide. The publication includes several print and digital platforms tailored for various stakeholders in the ASC industry.